Joining Big I Maryland is simple and will be one of the best business decisions your agency can make. Complete and submit our agency membership application online below to begin utilizing your membership sooner.
- Are actively engaged in the property and casualty insurance business
- Have one or more Maryland resident P&C licensed agents in their office
- Have the legal ability to represent more than one insurance company
- Operate on a commission and/or fee basis on his/her own account
- Agency owns policy expirations and/or renewal rights
Big I Maryland membership dues are based on your agency's P&C premium volume written in Maryland. Volume must include all owned (greater than 50%) subsidiaries and branches. Please refer to the dues chart below for dues information.
The membership dues cycle runs from September 1 - August 31.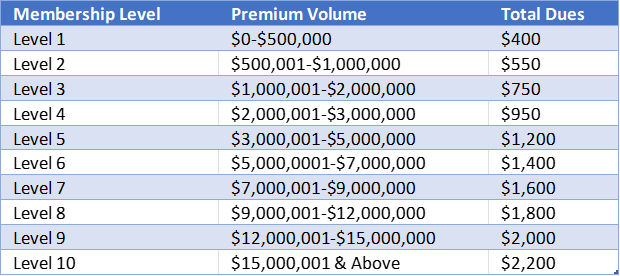 Non-Deductible Portion of Dues: Dues to Big I Maryland are not deductible as a charitable contribution but may be deductible as an ordinary and necessary business expense. A portion of the dues, however, is not deductible as an ordinary and necessary business expense to the extent that Big I Maryland engages in lobbying. The estimated non-deductible portion for 2022-2023 is 29.92%.
Our Membership Department is here to help you with any questions you may have during the application process or once you have joined the association. Contact our membership team at membership@bigimd.com or 410-766-0600 for assistance.